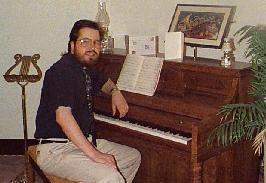 I'm into music, especially jazz. I play several instruments, including keyboards and trombone. In 1997 I picked up an Akai Electric Wind Instrument (EWI) and I have been having a lot of fun with it.

My wife and kids are totally awesome. :-)

I have a rare genetic condition called Retinoschisis which causes me to have severely impaired eyesight. I don't let it slow me down too much, though. I enjoy bicycling and waterskiing, and occassionally some fishing, and I'm very active in my church.

Still reading? Want to know more? Check out my blog.